Last month we had our annual Plasma sprint and as it's been a while since I last blogged, let me show you some of the work we did and what's coming up next.
Media Controls on the Lock Screen
A feature I teasered in my last blog post is media controls on the lock screen. The patch has now landed and will be part of the next Plasma release, 5.10, to be released end of May.
PowerDevil, Plasma's power management service, also gained the ability to pause media players before sending your computer to sleep. This helps you avoid embarrassing situations at university or work where your laptop might start blaring music at you from last night's hacking session when you get it out of your bag.
File Manager Jump List Actions
In Plasma 5.6 we introduced support for Jump List Actions and since then we have continuously been improving accessibility to functionality found within applications. However, Jump List Actions are statically defined in an application's .desktop file and as such usually cannot be dynamically populated. To increase your productivity even further, we added some extra smarts to file manager entries in Task Manager for quicker access to your files.
Speaking of file managers, I also gave some love to your favorite file manager, Dolphin. Its custom graphics views now correctly repaints on color scheme changes and middle clicking a tab will close it on mouse release rather than immediately on pressing it. Floppies now also show up as "Floppy Disk" instead of "0B Removable Storage". I have also been working on improving the labeling of Dolphin windows and tabs. Additionally, folder previews now honor custom icons you might have assigned.
Making Folder View Shine
We decided to make Folder View the default desktop containment in Plasma 5.10. Due to that we spent a great amount of time detailing various bits and pieces in it.
With the tighter icon grid the Desktop Toolbox overlapping files became a more prominent issue. The elegant solution I found was to have it lower itself behind the Folder View layer when a file is highlighted so it doesn't steal mouse events from the icon's controls. Moreover, I designed new selection icons to match the ones found in Dolphin, which draw less attention while at the same time being more easily recognizable.
A while ago I also added support for non-square icons to avoid squished thumbnails. The file size restriction for generating thumbnails of local files has been lifted globally now; previously it was special-cased inside Dolphin. This means you now get thumbnails for large files also on your desktop.
Keyboard navigation was also improved with more shortcuts being available (e.g. Ctrl+Z for Undo) and the desktop context menu showing up when pressing the Menu key (welcome to 1995 ;). Lastly, the experience when renaming files and support for the Trash location is a lot better now.
Miscellaneous Improvements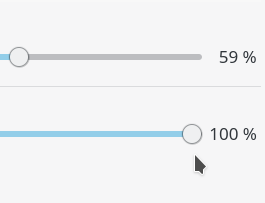 Plasma Themes can now provide a "hint-handle-size" in the Slider graphic which from which the size of the slider handle without any shadows and padding will be deduced. In Breeze, a one hundred percent slider will now have its handle touch the outermost corner of the rail unterneath. It's the little things… ;)
My favorite new feature in Plasma is interactive notification previews. Currently, we only make use of them in Spectacle, our screenshot tool, but I'm always looking for new places to add them (suggestions welcome). Due to popular demand, I also backported this to KDE Applications 16.12.2 – it was just a one-liner to add this to Spectacle, after all!
In Plasma 5.10 a context menu was added so the preview behaves even more like a file, enabling you to copy the file to clipboard, open it in an application other than the default, or straight send it as email.